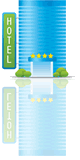 Airport Hotels / Accommodation

Major hotel chains are on the airport complexes, we can give you the information that makes booking your accommodation easier, by showing which of the main hotel chains operate from each airport.
You can either go directly to each of the hotels websites, by clicking on the relevant logo or you can click on the Holiday Extras logo below to get a comparison of all the hotels at the airport.
Click on the airport to the left to find out the information that you require.